FS ENGRAIS TRAÎNÉ ET ÉPANDEUR DE SEL
Paddocks, lawns and driveways are all taken care of with the Wessex trailed spreader. Perfect for use behind ATV's and road vehicles it comes complete with ball hitch.
FS ENGRAIS TRAÎNÉ ET ÉPANDEUR DE SEL
L'épandeur
FS-270TP WESSEX
est idéal pour une utilisation derrière des ATV et UTV. Disponible avec une trémie en polypropylène de 270 litres, cet épandeur très populaire permet d'épandre des engrais granulés ou en poudre ou des semences de graminées pour entretenir le gazon, nourrir les sols ou pour utiliser du sel de voirie pour l'entretien en hiver.Tous les modèles sont livrés avec un kit d'épandage hivernal et une trémie en plastique. Tous les épandeurs de sel FS sont dotés de kits hivernaux FS-WK.
Wessex machinery is sold through our excellent dealer network. Get in touch with #TeamWessex, and we'll locate your nearest dealer and then look after you throughout your sales journey.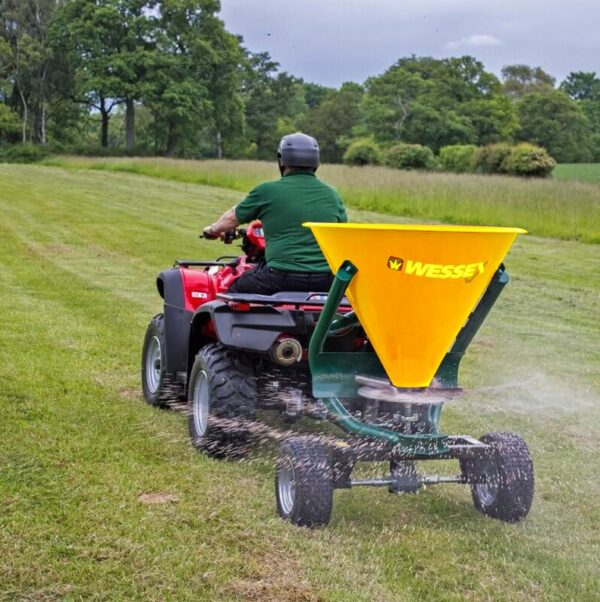 When only the best will do
When you purchase a Wessex product, you invest in over 55 years of innovation, manufacturing excellence and a commitment to progress that underpins the care for our customers, suppliers and employees. Since 1962 the Wessex name has been synonymous with superb quality, British built machines for the agricultural and groundcare markets. Our equipment is built for demanding applications, where reliability and durability are paramount.
Features & Benefits
La version permettant d'épandre du sel inclut les fonctions supplémentaires suivantes :
LIMITEUR D'ÉPANDAGE – Utilisé généralement en hiver dans le cadre d'applications d'entretien pour le salage des routes, le limiteur d'épandage réduit la largeur d'application à 1,5 m environ.
AGITATEUR ALLONGÉ – Garde la substance en mouvement dans la trémie.
GRILLE DE FILTRATION – Brise les morceaux de sel avant l'entrée dans la trémie.
Specifications
FS-270TP
Capacité de la trémie (granulés – 270 litres, engrais – 345 kilos)
Hauteur 1,43 m
Poids 84 kg
Largeur d'épandage Jusqu'à 14 m
Book a Demo / Request a Quote
Please submit your request for a product demonstration, and we will call you back to arrange a suitable time.
Menu