SP-2000 BED MOUNTED SPREADER
Deux épandeurs robustes SNOWEX V-PRO pour pick-upreprésentant une avancée technologique révolutionnaire pour le déneigement et le déverglaçage. Dotés de trémies entièrement construites en polyéthylène très résistant, les modèles V-PRO sont beaucoup plus légers que les boîtes en forme de V en acier.
Les machines Wessex sont vendues via notre excellent réseau de concessionnaires. Contactez #TeamWessex, nous trouverons votre revendeur le plus proche et nous nous occuperons de vous tout au long de votre parcours commercial.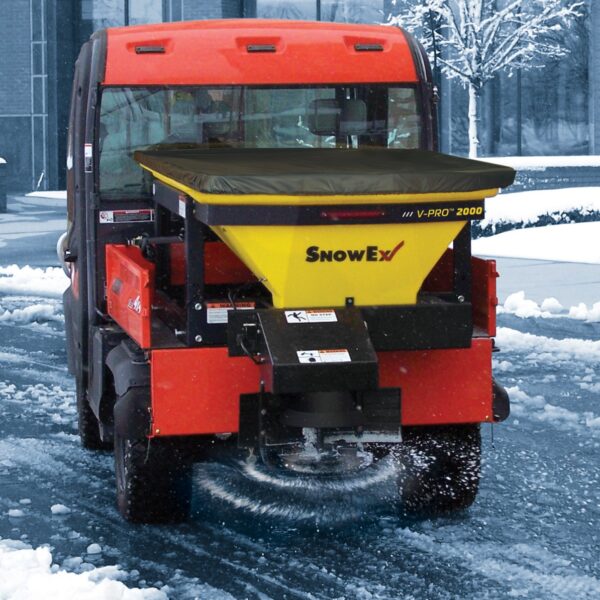 Quand seul le meilleur fera l'affaire
Lorsque vous achetez un produit Wessex, vous investissez dans plus de 55 ans d'innovation, d'excellence dans la fabrication et dans un engagement de progrès qui sous-tend le soin de nos clients, fournisseurs et employés. Depuis 1962, le nom Wessex est synonyme de superbe qualité, des machines construites au Royaume-Uni pour les marchés de l'agriculture et des sols. Notre équipement est conçu pour des applications exigeantes, où la fiabilité et la durabilité sont primordiales.
Caractéristiques et avantages
L'ÉPANDEUR BULK POUR LES VÉHICULES UTILITAIRES À USAGE INTENSIF!
Capacité de 300 litres
Contrôle total de la largeur d'épandage et du débit depuis le confort de la cabine du véhicule
Ensemble d'agitateur à raccord rapide permettant l'utilisation d'une barre de remorquage quand l'épandeur n'est pas en service
Double contrôleur variable de l'épandage/la vitesse pour un contrôle précis et indépendant de l'agitateur et de la tarière
Vibrateur de 12 V contribuant à la bonne circulation des matériaux
Sangle à cliquet très résistante et système de montage sur rail réglable
Caractéristiques
GUIDE DES MATÉRIAUX D'ÉPANDAGE
Sel fluide sec (si monté(s) avec un kit TRK)
Sel humide (sel gemme)
Sable (si monté avec)
Mélange 50/50 de sable et de sel (si monté avec)
Sels de déglaçage en sac (si monté(s) avec un kit TRK)
Les options
REMORQUE EN OPTION VPT-150
LES ÉPANDEURS V-PRO PEUVENT ÊTRE MONTÉS SUR LA REMORQUE SUR MESURE SNOWEX ; CETTE SOLUTION EST IDÉALE POUR L'ENTRETIEN DES VOIES PUBLIQUES.
À utiliser avec les modèles SP-2000 et SP-6000
Idéal pour les travaux sur la voie publique – conformité complète aux dispositions légales de circulation routière, y compris les phares, les freins à inertie, la suspension et le frein à main
Libère la plate-forme de la camionnette pour d'autres tâches
Conserve les caractéristiques uniques du SnowEx en termes de contrôle de la vitesse et de la largeur d'épandage en mouvement: rallonge d'épandeur incluse
Prêt à l'attelage si nécessaire
Pas de tachygraphe de véhicule normalement nécessaire
Réservez une démo
Please submit your request for a product demonstration, and we will call you back to arrange a suitable time.
Menu