FS ENGRAIS TRAÎNÉ ET ÉPANDEUR DE SEL
L'épandeur
FS-270TP WESSEX
est idéal pour une utilisation derrière des ATV et UTV. Disponible avec une trémie en polypropylène de 270 litres, cet épandeur très populaire permet d'épandre des engrais granulés ou en poudre ou des semences de graminées pour entretenir le gazon, nourrir les sols ou pour utiliser du sel de voirie pour l'entretien en hiver. Tous les modèles sont livrés avec un kit d'épandage hivernal et une trémie en plastique. Tous les épandeurs de sel FS sont dotés de kits hivernaux FS-WK.
Les machines Wessex sont vendues via notre excellent réseau de concessionnaires. Contactez #TeamWessex, nous trouverons votre revendeur le plus proche et nous nous occuperons de vous tout au long de votre parcours commercial.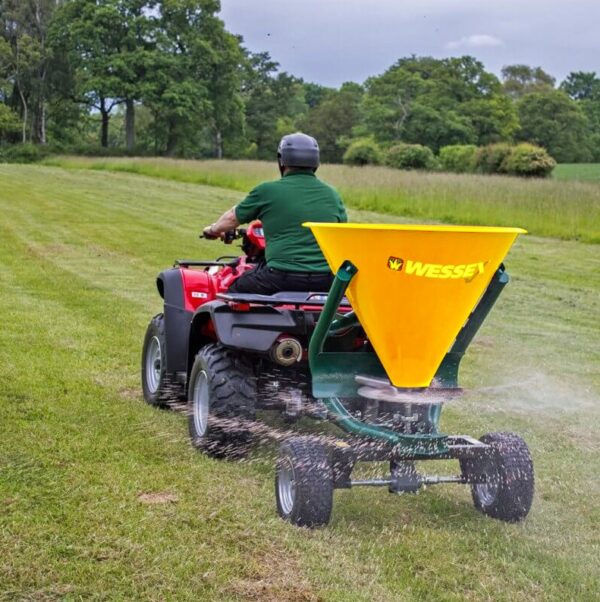 Quand seul le meilleur fera l'affaire
Lorsque vous achetez un produit Wessex, vous investissez dans plus de 55 ans d'innovation, d'excellence dans la fabrication et dans un engagement de progrès qui sous-tend le soin de nos clients, fournisseurs et employés. Depuis 1962, le nom Wessex est synonyme de superbe qualité, des machines construites au Royaume-Uni pour les marchés de l'agriculture et des sols. Notre équipement est conçu pour des applications exigeantes, où la fiabilité et la durabilité sont primordiales.
Caractéristiques et avantages
La version permettant d'épandre du sel inclut les fonctions supplémentaires suivantes :
LIMITEUR D'ÉPANDAGE – Utilisé généralement en hiver dans le cadre d'applications d'entretien pour le salage des routes, le limiteur d'épandage réduit la largeur d'application à 1,5 m environ.
AGITATEUR ALLONGÉ – Garde la substance en mouvement dans la trémie.
GRILLE DE FILTRATION – Brise les morceaux de sel avant l'entrée dans la trémie.
Caractéristiques
FS-270TP
Capacité de la trémie (granulés – 270 litres, engrais – 345 kilos)
Hauteur 1,43 m
Poids 84 kg
Largeur d'épandage Jusqu'à 14 m
Réservez une démo
Please submit your request for a product demonstration, and we will call you back to arrange a suitable time.
Menu