VX-1500 V-MAXX SPREADER
The SnowEx VX-1550 is the entry-level V-Maxx spreader with a 1,200 litre capacity and a superbly reliable performance, all winter long
VX-1500 V-MAXX SPREADER
SNOWEX V-MAXX
est le champion incontesté de l'épandage. Bâti selon les normes les plus strictes, il offre une fiabilité éprouvée dans les environnements les plus exigeants. C'est pourquoi le modèle
V-MAXX
est l'épandeur de choix des autorités locales, des entrepreneurs d'entretien des voies publiques et des applications commerciales dans le Royaume-Uni et dans toute l'Europe. Les deux modèles sont livrés avec un double contrôleur à vitesse variable pour un réglage indépendant de la vitesse de l'agitateur et de la tarière. L'utilisation de ce contrôleur numérique permet un positionnement précis des matériaux.
Wessex machinery is sold through our excellent dealer network. Get in touch with #TeamWessex, and we'll locate your nearest dealer and then look after you throughout your sales journey.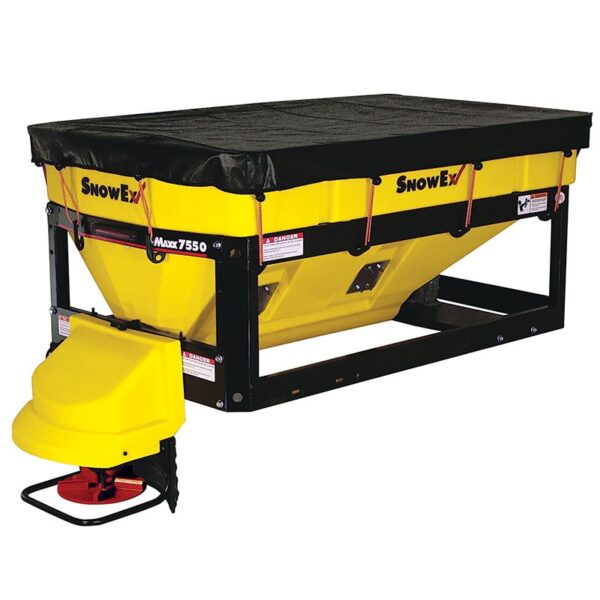 When only the best will do
When you purchase a Wessex product, you invest in over 55 years of innovation, manufacturing excellence and a commitment to progress that underpins the care for our customers, suppliers and employees. Since 1962 the Wessex name has been synonymous with superb quality, British built machines for the agricultural and groundcare markets. Our equipment is built for demanding applications, where reliability and durability are paramount.
Features & Benefits
Trémie d'une capacité de 1200 litres
À utiliser avec des véhicules commerciaux ou à monter sur la remorque VMT-250 en option
Raccord simple au contrôleur
Specifications
GUIDE DES MATÉRIAUX D'ÉPANDAGE
Sel fluide sec
Sel humide (sel gemme)
Sable
Mélange 50/50 de sable et de sel
Options
REMORQUE EN OPTION VMT-250
À utiliser avec VX-1500 & VX-2200
Idéal pour les travaux sur la voie publique – conformité complète aux dispositions légales de circulation routière, y compris les phares, les freins à inertie, la suspension et le frein à main
Libère la plate-forme du pick-up pour d'autres tâches
Conserve les caractéristiques uniques du SnowEx en termes de contrôle de la vitesse et de la largeur d'épandage en mouvement : rallonge d'épandeur incluse
Prêt à l'attelage si nécessaire
Pas de tachygraphe de véhicule
Book a Demo / Request a Quote
Please submit your request for a product demonstration, and we will call you back to arrange a suitable time.
Menu